Day 7 of the Conference Committee reviewed the Governor's proposals affecting public safety and natural resources.
In public safety, the governor's proposals primarily affect our state prisons system and our courts. Consider these proposals:
· $181 million in savings through commuting the sentences of undocumented immigrants in our state prison system and working with the federal government to deport them;
· $120.5 million in saving from releasing certain inmates one year early from prison and place them on house arrest with Global Positioning System monitoring for the remainder of their sentence;
· $99.9 million in savings by changing sentencing options for specific crimes that may be prosecuted either felonies or misdemeanors, making these offenses punishable by county jail and/or probation instead of state prison;
· $787.1 million in savings through eliminating funding for most rehabilitative services
· $168.6 million in cuts to our courts;
· $13 million in savings by phasing in electronic court reporting at a rate of 20% a year.
These cuts translate to real community impacts. The counties that sentence the most people to prison, subsequently resulting in state prison costs, are detailed in the map below which highlights these costs on a per capita basis.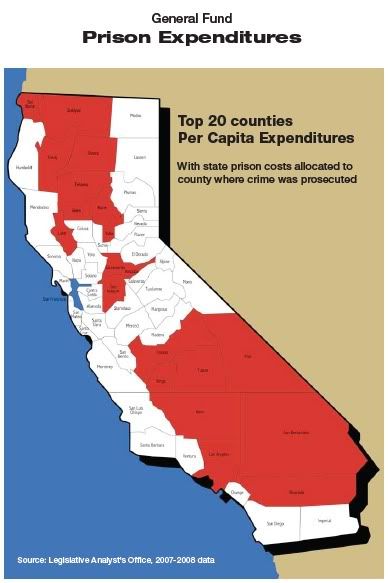 Most members of the public attended today's hearing to address what is perhaps the governor's most provocative natural resources proposal calling for the closure of 221 state parks. This is about 80% of all state parks.
As was testified by members of the public, closing state parks would impact the vacation plans of millions who live in and visit our state. This would have an economic impact on our state. According to the California State Parks Foundation, each dollar invested in state parks generates $2.35 cents in revenue for the state's general fund. The public also testified that closing parks would risk the safety of cultural housed artifacts within our historic parks and create a public safety problem across our state.
A full list of the parks that will close if this proposal is enacted is available at
http://www.calparks.org/takeaction/closurelist.html
.